This is an archived article and the information in the article may be outdated. Please look at the time stamp on the story to see when it was last updated.
State officials on Wednesday removed the elected board and general manager of a water district that for years has been accused of serving brown, smelly water to its customers in Compton.
With a 22-page decree, the State Water Resources Control Board abolished Sativa Los Angeles County Water District's five-member board of directors and ousted its manager. In their place, the state appointed the county's Department of Public Works to temporarily run the district while officials seek to merge the small district, which delivers water to about 1,600 homes, with a larger provider.
The move marks the first time that the state has used its power to order the takeover of a water agency.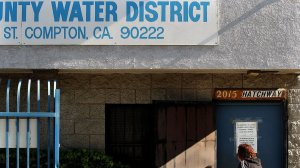 "For far too long, our residents have had to endure the unacceptable — they had no idea what would flow when they turned on their tap," L.A. County Supervisor Mark Ridley-Thomas said. "Enough is enough. Los Angeles County is ready to step in and step up … and immediately begin to triage the situation."
Read the full story on LATimes.com.