This is an archived article and the information in the article may be outdated. Please look at the time stamp on the story to see when it was last updated.
The Senate Rules Committee voted Monday to strip state Sen. Tony Mendoza of his leadership positions, including chairmanship of the banking committee, pending the outcome of an investigation into sexual harassment allegations by three women against the Democratic lawmaker from Artesia.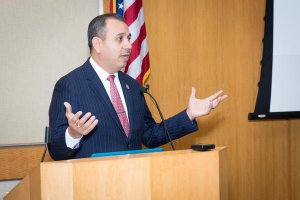 Holding an emergency meeting before the Senate resumes regular session in January, the bipartisan, five-member Rules Committee voted without comment to suspend Mendoza as chairman of the Senate Banking and Financial Institutions Committee and as a member of the state Commission for Economic Development and the California Workforce Development Fund.
Senate President Pro Tem Kevin de León (D-Los Angeles), who chairs the Rules Committee, said recently that the suspension, and plans to hire an independent, outside law firm to investigate complaints of sexual harassment, are necessary to increase the safety of employees and protect whistleblowers.
"Like many in our Caucus, I'm deeply troubled by the quantity and specificity of accusations against Senator Mendoza -- and have therefore determined that Senator Mendoza should be suspended from Chairmanships, boards and commissions until the independent investigation into his conduct is complete," De León said.
Read the full story on LATimes.com.