This is an archived article and the information in the article may be outdated. Please look at the time stamp on the story to see when it was last updated.
The debate over a secret list of 300 Los Angeles County sheriff's deputies with histories of dishonesty or other similar misconduct is now before the California Supreme Court.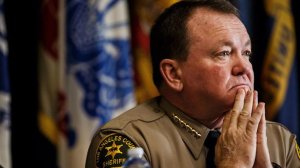 In an order filed Wednesday, the court said it would consider an appeal made by Sheriff Jim McDonnell in his attempt to reveal to prosecutors the names of deputies whose past wrongdoing could call into question their credibility as witnesses in criminal proceedings.
The announcement is the latest turn in a case that is being watched closely by police agencies and prosecutors across California and has pit the privacy rights of law enforcement officers against the rights of criminal defendants.
The legal battle began a year ago when the union that represents rank-and-file deputies in L.A. County went to court to block McDonnell from giving the list to prosecutors, arguing that doing so would violate state officer confidentiality laws and cast an unfair light on deputies whose mistakes could be long in the past.
Read the full story on LATimes.com.