This is an archived article and the information in the article may be outdated. Please look at the time stamp on the story to see when it was last updated.
California's snowpack is at 184% of average for this time of year. Cities from San Francisco to Los Angeles have recorded their highest rain levels in years. Rockslides and flooding hit Northern California.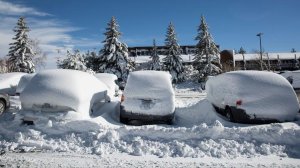 And the spillway of the state's massive dam at Lake Oroville, once a symbol of the state's brutal drought when it sat near empty, is actually eroding due to so much runoff from fall and winter rains.
Despite all this, the State Water Resources Control Board on Wednesday held firm in the face of opposition and extended the state's emergency drought regulations, pledging to revisit them in May, when the state's traditional rainy season has ended.
"We're certainly well-situated compared to previous years, but we've learned things can change suddenly. Warm rain or higher temperatures can quickly degrade snowpack," said board Chairwoman Felicia Marcus.
Click here to read the full story on LATimes.com.