This is an archived article and the information in the article may be outdated. Please look at the time stamp on the story to see when it was last updated.
The birds lay splayed across an otherwise serene Northern California shore, covered in a viscous substance that no one can identify.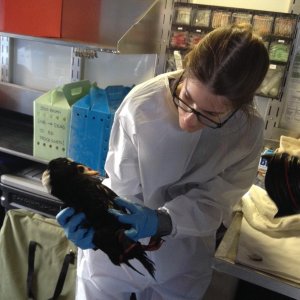 More than 300 have been rescued, but at least 200 were dead, according to a spokesman for the California Department of Fish and Wildlife.
So what happened?
"It's a full-on mystery," a department spokesman, Andrew Hughan, said. "We have no idea what they are coated in and I'm not sure when we will have the answer."
Authorities are doing two lab tests to determine what the birds, which were found near the San Leandro Marina on Tuesday, are covered in: one testing the water and another examining the birds to check if they died of hypothermia or were poisoned.
An oil spill has already been ruled out, Hughan said.
Julie Skoglund, an operations manager for the group International Bird Rescue, was flabbergasted by the mystery and the scope of the problem.
"I have been working here for 10 years, and I have never seen anything like this," she said.
The prognosis for birds in care is good, and those that have been cleaned and rescued can be returned to the wild, according to Barbara Callahan, a spokeswoman for International Bird Rescue.
"The birds tend to come into care needing hydration and medical stabilization, and we have a mandatory 24-hour stabilization process before cleaning," she said.
Cleaning the animals involves using baking soda and vinegar to loosen the goo, followed by dish detergent and hot water to wash away the foreign substance.
KTLA's Melissa Pamer contributed to this article.
#birdrescue effort in #sfbay continues today. Wardens launching boat to inspect bay water and shoreline pic.twitter.com/8LK37bLctP

— California Department of Fish and Wildlife (@CaliforniaDFW) January 21, 2015
A Dunlin, one of the 262 birds in care, washed of mystery goo at SF Bay Center :: http://t.co/ZWQaDrp3eX pic.twitter.com/JgKe0JnHrx

— Int'l Bird Rescue (@IntBirdRescue) January 21, 2015