This is an archived article and the information in the article may be outdated. Please look at the time stamp on the story to see when it was last updated.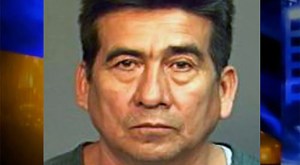 SANTA ANA, Calif. (KTLA) — A Santa Ana man charged with raping his 11-year-old stepdaughter and impregnating her has been sentenced to 61 years in state prison.
Mariano Castro, 58, was found guilty in February of two felony counts of lewd acts on a child, three felony counts of aggravated sexual assault and one felony count of continuous sexual abuse of a child under 14.
Prosecutors say Castro began abusing the victim when she was 8-years-old.
When the girl was 11, she gave birth to Castro's child.
Police said Castro resumed molesting the victim until she was 17 years old.
The victim eventually came forward when she was 18, on the advice of her priest.