This is an archived article and the information in the article may be outdated. Please look at the time stamp on the story to see when it was last updated.
"Jackass" star Steve-O was sentenced Wednesday to 30 days in Los Angeles County jail and ordered to temporarily stay out of Hollywood in connection with an August stunt in which he climbed a construction crane in an apparent protest against SeaWorld.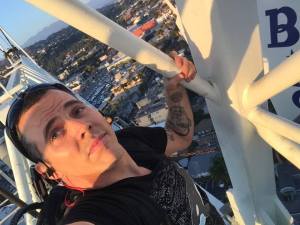 Steve-O, whose real name is Stephen Glover, pleaded no contest to two misdemeanor counts, according to a spokesman for the Los Angeles City Attorney's Office.
Steve-O entered his plea during an arraignment hearing in a downtown Los Angeles courtroom. He had been charged with five misdemeanors in connection with the Aug. 9 stunt in which Steve-O, 41, shot fireworks off the top of a crane in the 6000 block of West Selma Avenue.
While on the 100-foot crane, he dropped an inflatable killer whale that appeared to be labeled "SeaWorld Sucks." He then climbed down and was taken into custody. Video of the stunt was streamed on his Facebook page.
City firefighters were initially called to the scene for a report of a suicidal person.
In court Wednesday, Steve-O pleaded no contest to the use of fireworks and trespassing.
He was sentenced to 30 days in jail and 36 months of probation, the city attorney's spokesman said.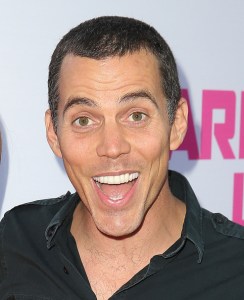 During his probation, he was also ordered to stay away 100 yards away from the city-designated Hollywood Entertainment District, except for getting to and from his home while inside a vehicle.
He must not possess fireworks nor participate in any "staged fight in public, feigned medical emergency, or any other non-approved or non-permitted stunt or prank in public reasonably likely to elicit an emergency response from police, fire or rescue personnel, within the County of Los Angeles" during his probation, the spokesman said.
Steve-O was scheduled to surrender to serve his jail term on Dec. 9.
He had faced up to 1 1/2 years in jail and a $1,500 fine, the Los Angeles Times reported.
He posted comments about his sentence Wednesday in an Instagram image — a cartoon in which he appeared to be jailed and talking to a killer whale that is also behind bars. It's an apparent reference to his anti-SeaWorld stance.
"Considering I've become a clean and sober, dog-rescuing vegan, I must say I'm ready to go to jail– not just because it will bring so much attention to the plight of orcas in captivity, but because it's nice to let people know I haven't lost my edge," the text accompanying the post stated. "What can I say, I'm a jackass."
"I mean, if your goal is to make a statement about captivity, you may as well get yourself locked up," he continued.
Steve-O wrote that he had launched a campaign to raise money for at-risk inner-city youth as a way to give back to the city of Los Angeles.