This is an archived article and the information in the article may be outdated. Please look at the time stamp on the story to see when it was last updated.
A Stockton toddler at the center of a child abuse investigation died on Friday after being taken off life support at Oakland Children's Hospital, police said.
It is still unclear how exactly the 2-year-old boy, Jackson "Jax" Love, was injured, but Stockton police have arrested his stepmom Chalsey Maynard and accused her of doling out abuse that left him with a severe head injury, according to KTLA sister station KTXL in Sacramento.
Jax's birth mother, Brittany Gonzales, said she was originally told her son had fallen off a trampoline on Tuesday. But a near-fatality report completed by the San Joaquin County Department of Child Support Services states the child's injuries were the result of a non-accidental crime.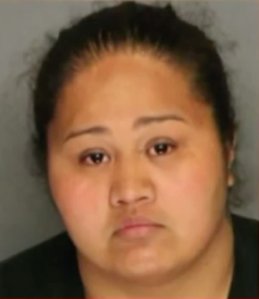 The form also says he was in the home of a parent or legal guardian when he was hurt. The department had previously said it would release redacted documents further detailing the case if it turned fatal, but it had not yet done so on Saturday.
Maynard was being held on $1.3 million bail on suspicion of three counts child abuse, but the charges may increase now that Jax has passed away, according to KTXL. She was arrested Wednesday after investigators had interviewed each of the boy's guardians.
Gonzales described her son as funny and outgoing and said he loved Mickey Mouse. The decision to take him off life-support was excruciating, she told KTXL, but she felt he'd suffered enough and wanted to end his pain.
"I don't feel any relief because my son is dead out of this," Gonzales said. "He won't live his life like he should; he was only 2 years old."
Jax had come home with cuts and bruises before, his mom said, and she had already filed two reports with child services. After contacting the agency most recently, in December, she was initially given emergency sole custody, but officials were unable to prove who was behind the injuries and full custody was eventually restored to his dad and stepmom.
"I knew something was happening," Gonzales told KTXL. "I didn't know who it was, I didn't know who to pinpoint it on. I knew something was happening in the house, whether it was him or her or a combination of the two."
Both Maynard and the boy's father declined requests to speak with reporters.
Maynard is scheduled to appear in court in Stockton on Monday at 1:30 p.m.