This is an archived article and the information in the article may be outdated. Please look at the time stamp on the story to see when it was last updated.
A Stockton teen who pleaded no contest to charges of driving drunk while livestreaming the crash that killed her younger sister was sentenced to prison on Thursday.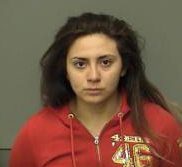 Obdulia Sanchez, 18, received the sentence of six years and four months after entering the no contest plea to charges of gross vehicular manslaughter, DUI and child endangerment, KTLA sister station KTXL in Sacramento reported.
The crash occurred while she was driving her 14-year-old sister Jacqueline Sanchez and another 14-year-old girl westbound down Henry Miller Road near Los Banos around 6:40 p.m. last July.
Sanchez overcorrected the 2003 Buick when it traveled off the edge of the road, according to the California Highway Patrol. The car then swerved to the opposite edge of the roadway and crashed through a barbed wire fence, overturning in a field.
The younger girls were not wearing their seat belts and both were ejected from the vehicle.
Jacqueline died as a result of the crash. The other passenger sustained major trauma to her right leg.
In the video she streamed to Instagram live, Sanchez identified the girl who died as her sister.
"Everybody, if I go to f****** jail for life, you already know why. My sister is f****** dying," she said in the video.
Sanchez later explained to a reporter at television station KPGE in Fresno that she continued recording after the fatal crash because she hoped it would help raise money for her sister's funeral.
"I made that video because I knew I had more than 5,000 followers," she wrote. "It was the only way my sister would get a decent burial. I would never expose my sister like that. I anticipated the public donating money because my family isn't rich."
Sanchez was livestreaming herself even before the crash, with footage showing her taking her hands off the steering wheel while she drove, the Associated Press reported, citing prosecutors.