This is an archived article and the information in the article may be outdated. Please look at the time stamp on the story to see when it was last updated.
A man was in custody after after he allegedly stole an Orange County Transportation Authority bus and led officers on a chase on Thursday, police said.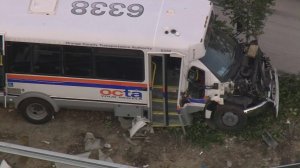 The bus was reported stolen from near the intersection of Barranca Parkway and Harvard Avenue at about 6:20 p.m., according to Kim Mohr, a public information officer for the Irvine Police Department.
OCTA route 473 runs through the area, but no passengers were on board at the time, officials said.
Police were able to locate the bus as it traveled down the northbound 5 Freeway.
Officers tried to pull the bus over, but instead of stopping, the driver attempted to strike a police motorcycle officer, Mohr said. The officer was able to jump off the motorcycle in time and was not struck by the bus, she added.
California Highway Patrol then became involved in the pursuit.
The bus eventually crashed on the 55 Freeway, near Fairview Drive, Mohr said. No other vehicles were involved in the crash.
Aerial footage from the scene showed the bus stopped on the freeway's shoulder after cutting through a guard rail. It had sustained significant damage to its front end.
A man could be seen being handcuffed and loaded into the back of a CHP SUV. He had attempted to flee on foot before being taken into custody, Mohr said.
No further details were available.
Correction: An earlier version of this article incorrectly stated the bus driver tried to strike a police patrol vehicle; in fact, he tried to hit a motorcycle officer, according to the Irvine police spokeswoman. The story has been updated.