This is an archived article and the information in the article may be outdated. Please look at the time stamp on the story to see when it was last updated.
One of four people traveling in a stolen vehicle was held at gunpoint by a homeowner in Fountain Valley after the car crashed into his Fountain Valley home.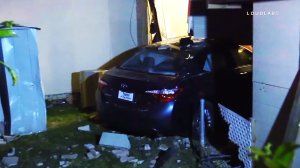 The incident began around midnight when police attempted to pull a car over for a code violation, Santa Ana Police Department Cmdr. Matt Sorenson said.
The driver did not comply and a short pursuit ensued, lasting only about two minutes, Sorenson said.
The car, which had four occupants and turned out to be stolen from Anaheim, ended up crashing into a home near the intersection of Holly Avenue and Newhope Street, Sorenson said.
Homeowner Cris Maradiaga said he and his wife were just going to sleep after staying up late to celebrate his birthday when he heard two loud crashes.
The vehicle had crashed into a wall surrounding the property and then into a bedroom where a woman who was visiting had been sleeping, Maradiaga said.
The woman was being checked out but was expected to be OK, he said.
"I came out and there was two guys that were trying to get in through the house," the Maradiaga said.
Maradiaga said his wife went to check on their baby and he went to get his gun before going outside.
"So I went and got my gun and got out and kept the guy here until the police got here, which was like a minute after," Maradiaga said.
Maradiaga also said a woman who exited the vehicle possibly ran through his house and out a side door before she was found. Police said she was hiding in the front yard of another residence.
Video from the scene showed a woman being pulled down and taken into custody by a K-9 officer.
All four people who were in the vehicle at the time of the cash were eventually arrested, Sorenson said.
The suspects have been identified as Santa Ana residents Tanisha Marie Estrada, 29; Leticia Dominguez, 21; and Daniel Enrique Ramirez, 23, and 20-year-old Corona resident Joshua Rudy Ramirez.
Three firearms were also recovered during the incident, Sorenson said. An additional firearm was found in the neighboring yard where the woman had run to hide, according to a press release from Santa Ana police.
Officers also located meth and cocaine in the vehicle, the release stated.
No serious injuries were reported.