This is an archived article and the information in the article may be outdated. Please look at the time stamp on the story to see when it was last updated.
VICTORVILLE, Calif. (KTLA) — The investigation continued on Tuesday into the fatal shooting of a store clerk at a mini-mart in Victorville.
It happened around 11 p.m. on Sunday at the AM/PM at Civic and Roy Rogers drives, according to the San Bernardino County Sheriff's Department.
Deputies who responded found the clerk dead at the scene. He was identified by coroner's officials as Daniel Olivera, 26.
"My life just got taken away, I don't have a life no more," Olivera's girlfriend, Janet Iris Cruz, said.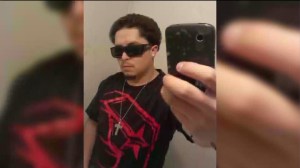 Witnesses standing outside with Olivera said they heard a pop, and Olivera fell to the floor.
"They're cowards, they shot him in the back," Cruz said.
Investigators were looking for surveillance video in an attempt to identify the shooter.
Olivera worked two jobs to support his family, according to family members.
He leaves behind four children between 6 months and 7 years old.
Olivera's son, Danny Jr., said his dad was the "best man ever" and he wanted to grow up to be just like him.
"If you have a heart just turn yourself in," Cruz said.
Anyone with information was asked to call San Bernardino County Sheriff's Department at (909) 387-3589.