This is an archived article and the information in the article may be outdated. Please look at the time stamp on the story to see when it was last updated.
The manager of an Anaheim market opened fire on three apparently armed robbers who held up the store late Thursday night, police said.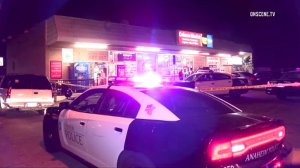 Police were called to the Calimex Market in the 300 block of Brookhurst Street after a robbery with shots fired call was reported at about 10:13 p.m., said Sgt. Jacob Gallacher with the Anaheim Police Department.
Surveillance video from the store showed two people, who appeared to be armed, ordering an employee to open a cash register.
One of the robbers can be seen stuffing something into his pockets before pulling the drawer out of the register.
The two robbers then begin to exit the store and are quickly followed by a third suspected robber.
As the robbers are leaving the market, the store's manager grabs what appears to be a gun from under the counter and chased after the robbers.
An unknown amount of rounds were then fired at the robbers, said Sgt. Jacob Gallacher with the Anaheim Police Department.
It was unclear if the robbers or their vehicle were hit by the gunfire, Gallacher said.
An area resident was not surprised the manager went after the robbers.
"I just have a message for … whoever thinks they want to come back over here, not to mess with these guys because they're always armed," Ivette Duenas said.
Authorities were searching for the three robbers seen in the video.
Editor's note: The surveillance video of the robbery, which initially appeared in this post, has been removed at the request of the store owner and Police Department.