This is an archived article and the information in the article may be outdated. Please look at the time stamp on the story to see when it was last updated.
A storm that moved east across Southern California Sunday and Monday brought snow to the local mountains, and rain to the parched region, prompting a public health advisory for beaches in Los Angeles and Orange counties.
Since the storm began Sunday, up to 2 inches of rain fell in some spots in the L.A. County mountains, with most valley areas seeing a half-inch or less through 8 a.m. Monday.
Scattered showers and more snow in the mountains were expected through Monday, with additional rain predicted for the coming weekend.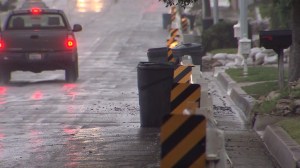 Sunday's Academy Awards joined ceremonies in 1991 and 1943 as the wettest in history, with .7 inches falling each of those years, according to the National Weather Service.
The rain prompted temporary flash-flood warnings near recent wildfire burn areas in Glendora and Camarillo Springs on Sunday evening.
Snow dumped on area mountains, with the greatest snowfall seen at Wrightwood in the eastern San Gabriel Mountains, where Mountain High saw up to 10 inches. The ski and snowboard resort planned to reopen Tuesday after a weeklong closure amid a very dry winter.
Big Bear Lake saw 5 inches, according to the weather service, and Bear Mountain resort reported 6 inches of snow.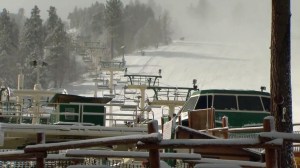 "This is what skiers and snowboarders in Southern California have really been waiting for. It's been a dry winter so far," said Chris Riddle of Bear Mountain Resorts. "This is exactly what we needed."
Midday Monday, rainfall was hammering the San Gabriel Mountains near Mount Wilson, with brief heavy downpours and small hail possible, the National Weather Service said. More than a quarter-inch of rain fell in 30 minutes at the San Gabriel Dam, north of Azusa and Glendora, the weather service said on Twitter.
The storm prompted public health agencies in L.A. and Orange counties to issue rain advisories, warning swimmers and surfers to avoid areas around discharging storm drains, creeks and rivers, where unhealthy and contaminated runoff could feed into the ocean.
In L.A. County, the rain advisory was set to be in effect through 7 a.m. Thursday, according to the Los Angeles County Department of Public Health. The Orange County advisory was set to last at least three days from the end of the storm.
Meanwhile, a winter weather advisory was in effect through 9 p.m. Monday for the mountains of L.A. and Ventura counties, excluding the Santa Monica Mountains. Snow levels were expected to drop as low as 5,000 feet, and accumulations of up to a foot at higher altitudes.
Snow levels were likewise expected to drop to 5,000 feet in the mountains of Riverside and San Bernardino counties, where a winter storm warning was in effect though 4 p.m. Monday. Those areas could see 10 or more inches of snow at above 7,000 feet, with moderate to heavy snow likely over 6,000 feet, the weather service stated.
Federal forecasters warned drivers to expected hazardous conditions and possible ice and fog on mountain roads.
7 to 10 inches of new snow. Look for more updates coming soon. #mthigh pic.twitter.com/nllOerwJiP

— Mountain High (@mthigh) February 23, 2015
More video: