This is an archived article and the information in the article may be outdated. Please look at the time stamp on the story to see when it was last updated.
A stretch of Ortega Highway between Lake Elsinore and San Juan Capistrano will be closed for an unknown amount of time while a storm-damaged portion of the crucial link between Riverside and Orange counties is repaired.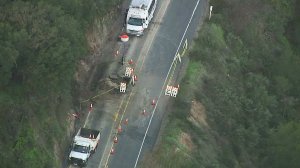 Caltrans first announced the road closure Wednesday after engineers determined the roadway had been weakened due to the heavy rainfall and was not safe to use.
The damaged part of roadway, also known as State Route 74, is located about a half mile east of Gibby Road in Orange County, according to a commuter alert from Irvine-based Caltrans District 12. A hard closure is in place at Gibby Road.
Aerial video from Sky5 Thursday showed a portion of the pavement had buckled and caved in at one point along the highway. A large hole in the pavement was dug by crews on site, authorities said.
Highway 74 is closed eastbound from Gateway Place and westbound from Nichols Institute Road, according to the commuter alert.
Caltrans District 8, which covers Riverside County, said the closure went all the way to Grand Avenue in Lake Elsinore, a distance of about 26 miles. Authorities on scene said local residents or those with business along the roadway were being allowed through, but only from the Lake Elsinore side.
On Wednesday evening, traffic was backed up for 5 miles, Caltrans said.
California Highway Patrol Officer Harvey Rey told KTLA Caltrans had estimated the highway would remain closed in both directions for about two weeks. A Caltrans spokeswoman at the scene said the agency could not give a reopening date estimate, but agreed repairs could take "weeks."
"We don't want to not make good on our promise," Caltrans District 12 spokeswoman Jocelyn Whitfield said.
Regular commuters on the crucial highway began noticing a dip in the road, and then Caltrans maintenance crews further noticed some cracks. An engineer was then called in, Whitfield said.
The concern was that a sinkhole would open up, Whitfield said, emphasizing that the situation was not, as of Thursday afternoon, considered a sinkhole.
"It could have gotten a lot worse. It could have been really bad," Whitfield said. "We were very lucky to catch it."
A "great deal" of rain came down from hillsides above and washed out the sediment that supports the pavement, she said. Whitfield called it a "2-foot void" under the road.
And, after the recent series of storms, the neighboring embankment is no longer as stable as it used to be.
"It all looks pretty simple ... but the engineers know that this is a problem waiting to happen," Whitfield said.
Around 30,000 trips per day occur on the highway.
The Caltrans road conditions website has updated information on the highway.
KTLA's Meghan McMonigle contributed to this report.