This is an archived article and the information in the article may be outdated. Please look at the time stamp on the story to see when it was last updated.
A powerful storm forecasters believe may be the strongest to hit the region in years moved into Southern California Friday, drenching the area with rain and prompting numerous weather watches and warnings in the area.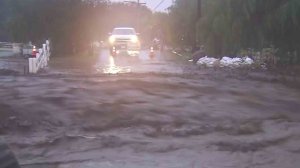 Heavy precipitation was causing numerous problems in the area by the afternoon, downing trees and power lines, and flooding local roads in the Los Angeles area. By 3:40 p.m., LAPD had sent out at an advisory warning people to stay off the road if possible, and for motorists to "use caution" if they have to drive.
The storm has also been blamed for at least one death; a man died hours suffering an electrical shock when power lines fell onto his vehicle in the San Fernando Valley, according to the Los Angeles Fire Department.
Throughout Southern California, more than 78,000 customers were without power as of 10 p.m. due to the inclement weather, officials said.
Numerous watching and warnings have been issued by the National Weather Service as torrential rain drenched continuously drenched the area into the evening.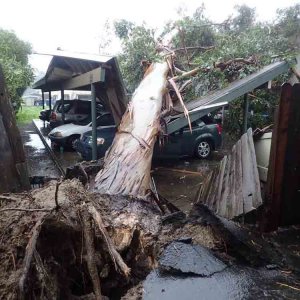 Shortly after 5 p.m., the weather service issued a flash flood warning for a large portion of Los Angeles County, including Long Beach, Pomona, and the Fish and Sand Fire burn areas. The warning was scheduled to last until 8 p.m.
Meanwhile, in Ventura County, the northbound 101 Freeway was shut down north of the city of Ventura after several feet of mud inundated the roadway.
The partial closure came within 30 minutes of a "heavy band" of rain that made its way into the area around 12:45 p.m., and prompted forecasters to warn of probable flooding in the area.
Flash-flood watches affecting more than 21 million people are in effect for L.A., Ventura and southern Santa Barbara counties, the Weather Service said.
Showers that began falling in the L.A. area Friday morning started out as light , but by the afternoon turned into heavy downpours.
Rainfall totals by the National Weather Service showed that parts of Santa Barbara County have already seen more than 7 inches of rain in the past two days. Parts of Ventura County have seen totals of more than 6 inches.
Coast and valley locations were expected to receive 2 to 6 inches of rain, while forecasters called for between 5 and 10 inches of rain for the mountains and foothills. Just over 4 inches are predicted in downtown Los Angeles.
The last time downtown L.A. received more than 3 inches of rain in one day was Dec. 28, 2004, when about 5 1/2 inches fell, according to a tweet from the weather service.
The record for one day of rain downtown is 5.88 inches on March 2, 1938.
Forecasters have described Friday's storm as the most significant of the season – and possibly strongest to hit the area in years. It is likely to bring showers and thunderstorms across the region into Saturday morning.
Here is the outlined risk for excessive rainfall, leading to flash flooding, thanks @NWSWPC pic.twitter.com/D74ooNqFXC

— NWS San Diego (@NWSSanDiego) February 17, 2017
Snowfall estimates are between 1 and 2 feet above the 8,000 foot mark, with areas between 6,000 and 8,000 feet receiving 6 to 12 inches of snow, according to the weather service.
Before the rain began, the weather service had issued flash flood watches through Saturday morning for L.A., Ventura and Santa Barbara counties as periods of heavy showers could drop as much as an inch of rain per hour at times.
Mandatory evacuations were in place Friday morning for more than 200 in Duarte as officials raised the alert level to red in anticipation of heavy rains. Voluntary evacuations are in place in Silverado Canyon in Orange County.
Residents in the Newhall community of Santa Clarita prepared their properties and met with city officials Thursday about the storm, which is expected to bring flooding to the area.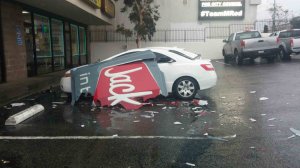 Voluntary evacuations are set to begin at 8 a.m. Friday in the Camarillo Springs area of Ventura County, which along with Santa Barbara County could be the hardest hit. Several homes were damaged when mudslides tore through the region in 2014.
A Red Cross shelter will be open to evacuated residents at Leisure Village, located at 1200 Leisure Village Drive, beginning at 8 a.m., the Ventura County emergency information website stated.
The storm is also expected to bring dangerous surf to the southwest California coast. The storm could bring 8-to-14-foot surf through Saturday.
Residents in Seal Beach built a huge sand berm and have a pump in place to deal with possible flooding at several beach front homes.
In Hermosa Beach, officials closed the pier due to high surf and heavy rain. Knott's Berry Farm in Buena Park was also closed Friday because of the storm, officials said.
Finally, southerly winds from the storm are also expected to impact the region.
Wind gusts between 40 and 60 mph are expected for the coasts and valleys, while mountain areas could see gusty winds reach 80 miles per hour, according to the Weather Service. High wind warnings have been issued for portions of San Bernardino and San Diego counties.
The storm is expected to move out of the region and give way to drier conditions by Saturday afternoon.
A couple of smaller storms may impact Southern California again early next week.
KTLA's Tracy Bloom and CNN contributed to this story.