This is an archived article and the information in the article may be outdated. Please look at the time stamp on the story to see when it was last updated.
Many Santa Barbara County residents who live near areas burned by the Thomas, Sherpa, and Whittier fires were required to evacuate their homes by 8 p.m. Monday night, after local officials said expected storm conditions are putting these areas at "extreme risk" for debris flow.
The county saw a deadly onslaught of mudslides in January after rain triggered debris flow that blocked the 101 Freeway in the area for two weeks. Mandatory evacuations were also ordered this earlier this month when storm conditions again set off fears of another devastating disaster.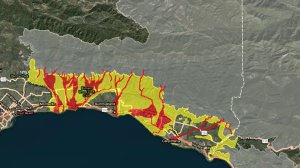 County officials have released an evacuation map showing what areas are at greatest risk, with those living in red areas said to be at "extreme risk" and under mandatory evacuations. Those areas are located near where wildfires such as the catastrophic Thomas Fire burned, leaving them vulnerable to debris flow.
The Thomas Fire also affected Ventura County, where authorities issued a voluntary evacuation order for the Matilija Canyon and  North Fork communities effective Tuesday at 7 a.m.
Santa Barbara County officials have told residents to look through emergency information at ReadySBC.org.
Meanwhile, the yellow areas on the map are considered "high risk" but are not facing mandatory evacuations.
There is potential for some areas to see more than half an inch of rainfall per hour — the threshold at which debris flow is expected once it's surpassed, according to Santa Barbara County officials, who cited National Weather Services estimates.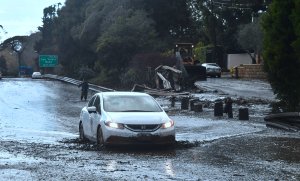 There may even be seven-tenths of an inch of rainfall per hour in some areas, officials said during a news conference.
"We will not be able to notify everyone in person," county Sheriff Bill Brown said during a news conference on the evacuation orders, explaining notifications may not possible due to the sheer breadth of evacuations.
"Please do not wait for someone to come to your door and contact you in person to tell you to leave," Brown said.
The yellow areas seen in the evacuation map are only under a "recommended evacuation warning," county officials said, although they are still at risk for flooding or "being cut off from services and utilities."
People "with access and functional needs" — such as those with disabilities — or owners of large animals should seriously consider evacuating if they live in the yellow areas, officials said.
On the evacuation map, there are patches of red and yellow areas seen along the region from just south of Carpinteria and north up to the area around Montecito, where the mudslides earlier this year left over a dozen people dead in their trail of destruction.
Those prior mudslides came with heavy rainfall hitting areas left scorched and barren by the Thomas Fire, now considered the largest California wildfire on record.
"Officials will return individuals to their homes as soon as it is safe to do so," county officials said, advising residents to look at the evacuation boundaries map at ReadySBC.org if they are looking for further clarification.
Anyone needing assistance with evacuating large and small animals can contact Santa Barbara County Animal Services at 805-681-4332.
Evacuation Center:
Goleta Valley Community Center
5679 Hollister Avenue
Goleta, CA 93117