This is an archived article and the information in the article may be outdated. Please look at the time stamp on the story to see when it was last updated.
As one street-racing suspect remained behind bars, another was being sought on Monday in connection with a chain-reaction crash on the 5 Freeway in Commerce that killed a UPS driver and two teens over the weekend.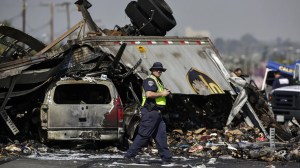 The wanted driver was involved in an alleged street race that resulted in the other racing vehicle slamming into a UPS truck on Saturday, causing the big rig to flip over the center divider into oncoming traffic near Washington Boulevard, in turn triggering a multivehicle crash, according to the California Highway Patrol.
Valencia residents Michelle Littlefield, 19 and Brian Lewandowski, 18, were identified by the Los Angeles County coroner's office on Monday as two of the three victims killed in the fiery collision.
Littlefield's parents, William and Gigi Littlefield, said they want justice for their daughter, who was slated to attend Cal Poly San Luis Obispo in fall.
"It's unacceptable. It's unbelievable, and it's unfathomable," William Littlefield said. "It hit me hard this morning. It's too much. … We were very attached."
A positive identity has not been made on the third victim, but relatives and a union have identified the UPS driver as Scott Treadway.
Two others who were in a Nissan with Littlefield and Lewandowski were hospitalized after suffering serious injuries. The victims were returning from a trip to Disneyland, Littlefield's parents said.
The 5 Freeway was shut down in both directions for roughly 24 hours while authorities investigated the violent crash and Caltrans crews repaired the heavily damaged road.
Shortly after the collision, authorities arrested 35-year-old Dealio Lockhart, of Whittier, on suspicion of vehicular manslaughter. He remained in jail and was being held on $1 million bail.
Although the Los Angeles County District Attorney's Office has yet to file charges in the case, Lockhart was scheduled to make his first court appearance on Tuesday, inmate records showed.
Lockhart had a history of driving-related offenses, having been convicted of speeding in 2012 in San Bernardino County and again in Utah in 2014, according to the Los Angeles Times, which cited court records and the DMV.
The second driver wanted in the 5 Freeway crash was driving a dark-colored Dodge Charger, but officials have not released a further description of the vehicle, nor did they provide one of the person behind the wheel.
While the search continued for the suspected street racer, the three victims killed in the crash were being mourned by family, friends and co-workers.
"Scott was admired and loved by his friends and co-workers at UPS. We are still trying to come to grips with this horrible loss," Teamsters Local 396 wrote in a Facebook post. "We love and miss you Brother!"
In an interview the day after the incident, Reggie Blackburn, who worked with Treadway, described the victim to KTLA as "nice" "always happy" and a "good guy."
Lewandowski was identified as the son of a Los Angeles County Sheriff's Department homicide lieutenant, authorities said on Sunday.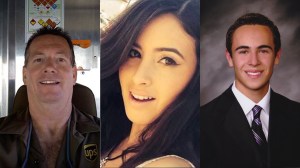 The department released a statement from the teen's family, which read in part, "Brian was an incredible young man and every parent's dream for a son. We are absolutely devastated by our loss."
Littlefield was employed by Six Flag Magic Mountain and attended College of the Canyons, according to a Crowdrise fundraising page set up to pay for her funeral.
The 19-year-old woman was remembered as a "vivacious and loving person" who was "loved by many" and had a "promising life ahead of her," the page stated.
The crash remained under investigation. Anyone with information has been asked to contact Officer Fonseca or Officer Flores of the East Los Angeles CHP Office at 323-980-4600.
KTLA's Feven Kiflegiorgis and Melissa Pamer contributed to this story.