This is an archived article and the information in the article may be outdated. Please look at the time stamp on the story to see when it was last updated.
A knife-wielding man suspected of attacking a security guard and robbing an armored truck in downtown Santa Monica, leading to shots being fired near the Third Street Promenade, was arrested early Friday afternoon, police said.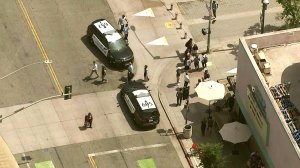 The man approached a Brinks Armored security guard in the area of Third Street and Arizona Avenue around 11:15 a.m., according to the Santa Monica Police Department. He then tried to stab the guard, who responded by shooting at him three times, police said in a news release. The assailant, who was not hit by the gunfire, fled the scene and was apprehended around 12:10 p.m. He was found in the vicinity of a knife, money and a money bag, according to police. The security guard also was uninjured in the incident. The incident prompted a large police response to the area, Sky5 video showed. A large section of Third Street between Arizona and Santa Monica Boulevard was blocked off with crime scene tape shortly before noon, according to the aerial footage. Some businesses went on lockdown in the immediate aftermath of the incident. Lorenzo Carlini, who was visiting from Rome with his wife, told KTLA they were in Abercrombie & Fitch when they heard gunshots. They were ushered into a back room, along with other customers and store employees. "We stayed there for an hour," Carlini said. "Very, very scared." Police have advised people to avoid the area of Third Street and Arizona amid the ongoing investigation. They said the area should reopen by 2 p.m. The Promenade, which is located several blocks from the beach, is a popular shopping, dining and entertainment destination for tourists and locals alike.
KTLA's Jennifer Thang contributed to this story.