This is an archived article and the information in the article may be outdated. Please look at the time stamp on the story to see when it was last updated.
Police were asking for the public's help in identifying a robber who terrorized an 88-year-old man in Hollywood in an attack that was recorded by a surveillance camera.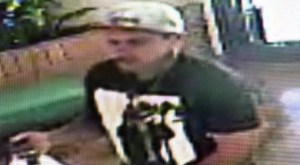 The robber first approached John Fu around 3:30 p.m. on Aug. 19 in the 5800 block of Carlos Way after following the elderly man from a bus stop at Hollywood Boulevard and Bronson Avenue, according to a news release from the Los Angeles Police Department.
Fu initially gave the man a couple of dollars and kept walking, he said. But the suspect followed him and physically confronted Fu as he entered his apartment building.
Video of the assault showed the robber forcing his way into the apartment's elevator room, shoving Fu repeatedly against the wall and throwing him to the floor.
"He hit me with his hand … five times," Fu said.
Even after he finally handed over more money, the robber continued to punch Fu, authorities said.
"My face was swollen," Fu said.
Fu managed to escape to the third floor where his neighbors called 911.
The robber was described as a 25-year-old White or Hispanic man with black hair and brown eyes, about 5 feet 8 inches tall and 150 pounds.
He was wearing a gray baseball cap with a red bill, a black T-shirt with white print on the front, floral shorts and black tennis shoes.
He was also seen carrying a black and white checkered backpack and white plastic bag.
Anyone with information was asked to contact Hollywood Robbery Detective Bangphraxay or Officer Maxwell at 213-972-2933 or 213-972-2936.