This is an archived article and the information in the article may be outdated. Please look at the time stamp on the story to see when it was last updated.
A strong storm system moved across Southern California on Sunday, bringing heavy rains and damaging winds to the area, and causing flooding that prompted the partial closure of multiple highways.
Lanes on both the101 and the Pacific Coast Highway were temporarily shut down late in the morning as the storm caused debris flows and minor flooding in the Solimar burn area, authorities said.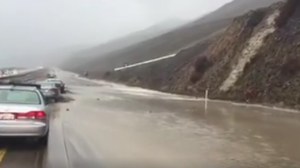 Both sides of the 101 near State Beaches were down to one lane around 10 a.m., while the PCH near Emma Wood Camp Ground was closed, according to the Ventura County Sheriff's Office of Emergency Services.
The grounds, which were also flooded, had to be evacuated.
By 11:45 a.m., Highway 101 was fully reopen, the office tweeted.
A flash flood watch was issued for the mountain areas in the northwestern part of Ventura County as moderate to heavy rainfall moved in the area. It expired at 1:45 p.m.
A severe thunderstorm warning was issued for parts of Ventura County until 1:30 p.m., and another went into effect in the northeastern portion of L.A. County around the same time, according to the National Weather Service.
In Santa Monica, which was among the places under a severe thunderstorm warning around 1:45 p.m., officials warned that there was the possibility of a "small brief tornado," the county's Office of Emergency Services tweeted.
The northeastern portion of Los Angeles County was also under the same warning, the National Weather Service tweeted.
Severe Thunderstorm warning in effect until 1:30 pm for NE Ventura and NW Los Angeles Counties#cawx #larain pic.twitter.com/CoHQKHqarE

— NWS Los Angeles (@NWSLosAngeles) January 31, 2016
Prior to the storm moving into the region, forecasters previously warned that a strong storm system moving into the area could bring heavy rain, snow and isolated thunderstorms on Sunday.
Many local residents reported the rain was already falling by 8 a.m. in areas including near downtown Los Angeles, Santa Clarita, Buena Park and Glendora, with other areas reporting moderate rain a short time later.
The storm brought a wide range of weather-related impacts to the area, including dangerous winter driving conditions in the mountains, and powerful winds that downed trees and power lines.
About 2 p.m., California Highway Patrol officers and Los Angeles firefighters — equipped with chainsaws — responded to the 134 Freeway in Burbank, were a massive toppled tree was blocking some eastbound lanes near Pass Avenue.
Because of the potential for roadway flooding and mud and debris flows, a flash flood watch was scheduled to be in effect for local burn areas from 9 a.m. to 6 p.m. on Sunday, forecasters said.
Around 1:15 p.m., the weather service issued a flash flood warning for the burn areas in the eastern and central parts of Los angeles County that expired at 3:45 p.m.
Forecasters warned that thunderstorms and waterspouts would also be possible during periods of moderate to heavy rains.
As of 5 p.m., estimates indicated that up to an additional 8 inches of snow was possible in the northern foothills and mountains, according to the weather service.
In mountain areas, higher elevations were expected to be hit by heavy snow, with accumulations down to mountain pass levels by late Sunday afternoon.
All lanes remained open on Interstate 5 near the Grapevine as the freeway experienced light snow showers and strong winds. Elsewhere in Kern County, a stretch of Highway 58 was closed between the Bakersfield and Mojave areas due to icy conditions, according to CalTrans.
Dangerous winds were also expected to develop following the passage of the current storm system, from Sunday night to Monday, forecasters also predicted.
KTLA's John A. Moreno contributed to this report.