This is an archived article and the information in the article may be outdated. Please look at the time stamp on the story to see when it was last updated.
Powerful overnight winds around Southern California were blamed early Thursday for toppling trees and power lines, and causing power outages.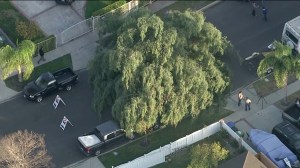 In Reseda, strong wind gusts caused a large pine tree to uproot and fall over, partially crushing one car.
A power outage in two areas of the San Fernando Valley also left some 2,000 people temporarily without electricity.
The winds came amid a wind advisory issued by the National Weather Service that was set to remain in effect until Thursday afternoon.
Chris Burrous reports from Reseda for the KTLA 5 Morning News on Thursday, Feb. 20, 2014.