This is an archived article and the information in the article may be outdated. Please look at the time stamp on the story to see when it was last updated.
Gusty winds caused a tree to topple onto a school early Tuesday morning in the city of San Bernardino, officials said.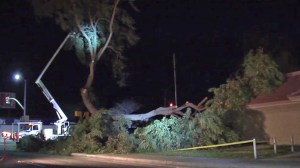 The tree split in half around 12:30 a.m. and part of it landed on the roof of Mount Vernon Elementary School, located in the 1200 block of West 10th Street (map), according to school officials.
"We're looking at a tree that's probably, I'm gauging anywhere between 75 and 100 feet tall," said Eric Vetere, the safety officer and emergency manager for the San Bernardino City Unified School District.
"Preliminarily we don't believe there's  structural damage," Vitere told KTLA 5.
City workers were busy trying to remove the tree so the school could open as scheduled.
Strong winds were expected to continue to batter a large portion of Southern California for at least 24 hours, forecasters said.
A high wind warning was issued for several parts of San Bernardino and Riverside counties due to moderate to strong winds, according to the National Weather Service.
The warning was to remain in effect until 12 p.m. Wednesday, the NWS said.
A red flag warning was also in effect for much of Los Angeles and Ventura counties until Wednesday at 6 p.m., because of moderate to strong Santa Ana winds and very low humidity.