This is an archived article and the information in the article may be outdated. Please look at the time stamp on the story to see when it was last updated.
A "stubborn" attic fire caused "extensive damage" to a two-story home in South L.A.'s Vermont Knolls neighborhood early Friday morning, according to Los Angeles Fire Department officials.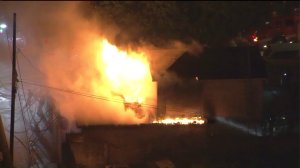 The blaze burned on West 74th Street near Vermont Avenue after 5 a.m., the Fire Department tweeted.
Thirty seven firefighters responded to the fire, knocking it down in 48 minutes, the department stated around 6 a.m.
The fire started outside, worked its way through a utility room and into the attic, Battalion Chief Dale Drummond said.
The fire was described as "stubborn" because firefighters faced "hidden spaces," some of which had to be cut through to reach flames, he added.
Sky5 aerials showed a possible civilian climbing a ladder and holding a flashlight.
The incident concerned firefighters, who were "going to look into" it, Drummond said.
Firefighters were also seen climbing a ladder to reach large flames that billowed from the home's roof area.
No one was injured during the firefight, and one person who was inside the home escaped.
The cause of the fire was under investigation, and fire officials expected to be at the scene for several hours.
The fire broke out during a wind advisory issued by the National Weather Service. Winds around 5 mph were expected overnight, with north-northwest winds turning into west-southwest winds and picking up to 10 mph Friday morning.