This is an archived article and the information in the article may be outdated. Please look at the time stamp on the story to see when it was last updated.
A traffic collision led to a sheared fire hydrant, downed power lines and a raging structure fire in Santa Fe Springs Monday afternoon.
About 100 Santa Fe Springs Fire Department firefighters were battling the blaze, which was sending up thick, black smoke that was visible from across much of the Los Angeles area. Two firefighters were injured during the incident, one with moderate injuries, Chief Michael Crook said.
A commercial building and a yard filled with shipping containers were burning. By 3:30 p.m., the building appeared destroyed, aerial video from Sky5 showed.
Officials evacuated the building and adjacent buildings during the blaze, Crook said.
The Whittier Police Department said it was responding to the scene in the 13200 Los Nietos Road about 2:30 p.m., but the blaze appeared to be burning in the 12200 block, which is an industrial area.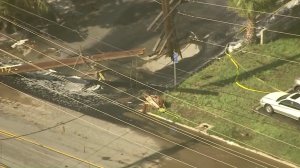 Andrew Rios, the owner of a nearby business told KTLA that Multi-Link International Corp. -- a recycling company at 12235 Los Nietos Road -- is located in the building burning.
Police said the downed power lines, sheared hydrant and the fire were the result of a collision. A wooden pole holding power lines appeared to be broken off at its base and hanging in midair.
Rios' business captured surveillance video that showed a pickup truck plowing into the power pole, knocking it over.
Whittier police Sgt. Dominic Iraldo said officers were called to the scene at 1:43 p.m. He had no additional details.
A Fire Department official said the chief was on scene and could not provide details about the fire.
The roadway was closed in both directions and firefighters expected to remain at the scene for several hours.