This is an archived article and the information in the article may be outdated. Please look at the time stamp on the story to see when it was last updated.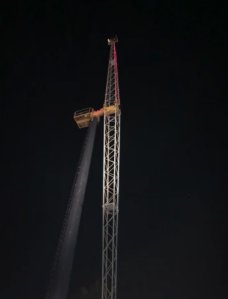 Fire crews rescued two people who were stuck atop a thrill ride in the Scandia Family Fun Park in Victorville Sunday night.
The firefighters responded to a rescue call about 9:24 p.m. and discovered the trapped riders 160 feet in the air at the highest point of the Sky Screamer Ride, the San Bernardino County Fire Department posted on its Facebook page.
The trapped riders, both males, were 14 and 20 years old and were restrained in an upright position, the Fire Department stated.
Crews brought in a 100 foot ladder truck to reach a platform which contained additional controls for the ride.
After about 45 minutes, the ride was slowly lowered to the offloading platform below and the two riders were removed.
The riders were both evaluated at the scene by paramedics, but were not taken to the hospital, according to the Fire Department.