This is an archived article and the information in the article may be outdated. Please look at the time stamp on the story to see when it was last updated.
A boy who was killed while walking to school less than a week before his 18th birthday was being mourned Wednesday, a day after a city truck struck him in a Highland Park crosswalk, prompting calls for improved road safety.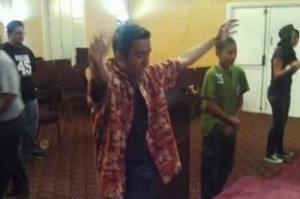 At the site where he died, a memorial continued to grow for Andres Perez, with candles, flowers and signs still being left in the 17-year-old's honor Wednesday morning.
The Montebello teen was fatally stuck about 7:15 a.m. Tuesday while crossing North Figueroa Street at Avenue 60 on his way to nearby Los Angeles International Charter High School, police said. It wasn't clear if Perez was crossing with or against the light, but he was in a crosswalk and had the right-of-way, a detective said at the scene.
A Los Angeles city flatbed truck that was turning left from Avenue 60 onto Figueroa hit Perez, who was declared dead on scene.
The collision came about the time Los Angeles Unified School District confirmed all campuses were closed due to an emailed threat that was later determined to be "not credible." Perez's 225-student school is not part of LAUSD but chose to close down nonetheless, as did several other charter campuses in the L.A. area.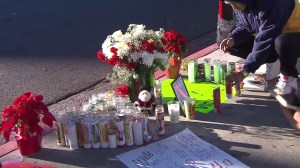 The school was devastated by Perez's death, Executive Director Clifford Moseley said in a statement.
"Our focus now is to provide counseling and other support as needed so the school community can address and heal from this tragedy," Moseley said.
Moseley told the Los Angeles Times that Perez was an "awesome student" who had just been accepted to film school at Cal State L.A.
On Wednesday, the school asked its community to donate to a GoFundMe page set up for Perez's family.
"He was a very fun, loving, cheerful young man," the page stated. "His dream was to become a successful film director and to be able take care of his parents as they have always done their best for him."
The teen was involved in his church, Victory Outreach Church of El Sereno, according to the page, which raised more than $3,500 within about two hours.
Perez would have turned 18 on Sunday.
"Our family is having a difficult time dealing with the loss of Andres and would greatly appreciate any donations," the page said.
On Wednesday, a witness who stopped after the crash told KTLA that Perez's mother at first could not believe her son's body was lifeless, thinking the scene was a simple collision.
"She thought it was just … a regular accident, he was going to be OK," Cassandra Contreras said. "Even when she saw his backpack on the ground, she was still in denial."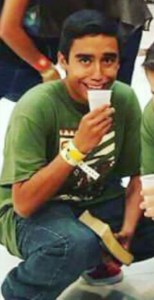 Contreras stayed with Perez's mother, identified as Mariposa on the GoFundMe page.
"As a mother, I couldn't leave another mother to grieve alone. I was here with her; I waited for her family to get here," Contreras said. "It's just a heartbreaking tragedy."
Contreras expressed frustration that Perez's death quickly became a focus for area activists who have called for increased safety along a deadly stretch of Figueroa Street. Contreras shouted and cursed at least one woman who visited the memorial Wednesday, calling the woman a "gringo."
"He has a name," Contreras said. "He deserves to be respected. He was only 17 years old."
At a vigil Tuesday, activists said Perez's death came after a string of fatal collisions in which pedestrians or cyclists have been killed by vehicles.
"Too many people die on our streets," said Felicia Garcia, who organized the vigil on behalf of the group Figueroa for All. "If a parent can't even think that their kid is OK walking to school — it just doesn't make sense that anyone should have to expect that."
Activists questioned why the local city councilman, Gil Cedillo, did not come to the scene.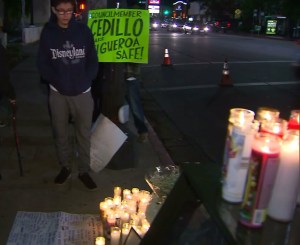 Councilman Jose Huizar, who represents a neighboring L.A. City Council district, did come to the vigil, referring questions about road safety to his colleague.
"You need to talk to Councilman Gil Cedillo at his reluctance to slow traffic down," Huizar told a man citing Los Angeles Times statistics on the number of collisions.
"How come you're here and he's not here?" the man responded.
Huizar said, "You'll have to call him."
Cedillo has been a target of some bike and pedestrian activists since he halted work on a city plan to install bike lanes along a 3-mile stretch of Figueroa in 2014.
In a statement sent to KTLA, Cedillo said he had been in touch with the victim's family, school administrators, the student body and "city departments."
"I simply want the family, school and community to know that we are here to help in any way," Cedillo said. "This is a tragedy for two families, one who bears the loss of their son who embodied many of their hopes and aspirations and the other who to has the bear the burden of being involved in this horrible tragedy."
A vigil for Perez — apparently organized in part by one of those activists — was set for 6 p.m. Friday at the crash site.