This is an archived article and the information in the article may be outdated. Please look at the time stamp on the story to see when it was last updated.
An 18-year-old student was arrested after allegedly threatening to "shoot, stab and assault" staff members at Black Rock High School in Yucca Valley, San Bernardino County authorities announced Thursday.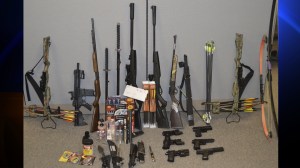 School staff had notified the Morongo Basin Sheriff's Station of the alleged threat by Matthew Ross on Wednesday, according to a news release from the San Bernardino County Sheriff's Department.
Deputies then served a search warrant at a home in the 7700 block of Sahara Avenue in Twentynine Palms (map) and discovered a cache of weapons that including a loaded rifle, numerous hunting knives, crossbows and hundreds of rounds of rifle and shotgun ammunition, the release stated.
"The threat was very real,"  San Bernardino County sheriff's Deputy Shaunna Ables told the Los Angeles Times. "He had the means to carry it out if he wanted to."
Ross had allegedly threatened to kill three teachers at the school on Tuesday afternoon, the Times reported.
He was arrested on suspicion of criminal threats and booked at the West Valley Detention Center in Rancho Cucamonga, according to the release.
Ross was being held on $50,000 bail.