This is an archived article and the information in the article may be outdated. Please look at the time stamp on the story to see when it was last updated.
MISSION VIEJO, Calif. (KTLA) — An investigation was underway on Tuesday into a fire at Saddleback College that claimed the life of a 21-year-old student.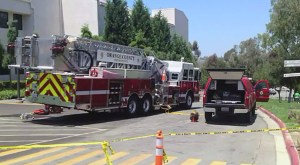 The student, whose name was not immediately released, died on Monday night, according to the Orange County coroner's office.
The fire broke out just after 6:30 a.m. in the the Business/General Studies building on the campus, located on Marguerite Parkway.
Someone reported seeing smoke billowing from the building, authorities said.
When firefighters arrived, they found an active fire on the third floor.
The fire, which involved an air-conditioning unit, was out by 7:14 a.m., according to the Orange County Fire Authority.
Responding fire crews found the student unresponsive on the floor.
"He was unconscious, not breathing and badly burned," Saddleback College Police Chief Chris Wilkinson said.
The student was taken to Mission Hospital in Mission Viejo, and then airlifted to Western Medical Center Santa Ana to be treated in its burn unit.
He reportedly suffered second- and third-degree burns over most of his body.
No one else was injured.
The student was scheduled to attend a social psychology class 30 minutes after the fire started, school spokeswoman Jennie McCue said.
The student had a 3.23 grade-point average and had been attending the school for two years, she said.
The cause of the fire remained under investigation.
But investigators said that a liquid accelerant was used in the fire.