This is an archived article and the information in the article may be outdated. Please look at the time stamp on the story to see when it was last updated.
A San Pedro high school student who said he had sex with his now-incarcerated teacher said the instructor bought him an Xbox before manipulating him into repeated sexual encounters.
The underage boy recounted the relationship with substitute biology teacher Michelle Yeh, to KTLA in an exclusive interview. The teen's attorney planned Thursday to file a lawsuit on his client's behalf against Yeh and the Los Angeles Unified School District.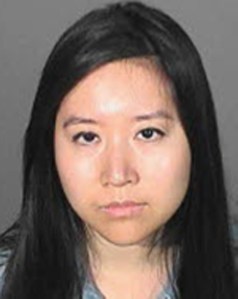 Yeh, 29, was in January sentenced the three years, eight months in state prison on multiple counts of child molestation and unlawful sex with three male students she met while working at San Pedro High School. She was ordered to register as a sex offender for life.
One of her victims told KTLA their interactions changed after he asked to borrow bus money from Yeh. She took him to the teacher's lounge, bought him lunch and gave him $10, according to the boy, who was 15 at the time.
The teen said he was in Yeh's science class.
"I would always somehow come out with an A in the class, which I know I didn't deserve," the boy said.
After the school year ended, Yeh texted the teen, asking if he wanted to hang out, he said. She took him to the movies, tried unsuccessfully to hold his hand, and then gave him $20 when she dropped him off.
A week later, she bought him an Xbox 360 and some games — spending some $400, according to the teen. When they went back to the boy's home to play the games, she moved in on him physically.
"She started rubbing my face, calling me cute, handsome," he said. "She started kissing me and from there we had sex."
This went on for a month or two, during which time she treated him as a boyfriend, the teen said.
"I didn't feel like I was in a relationship. I felt like I was kind of obligated," he said.
He was manipulated, he said.
The boy described their interactions as: "eat, go somewhere, come back, have sex."
When his mother found out, she called police. She told KTLA she felt betrayed.
"I was really in shock," the mother said. "I think she felt like, 'Eureka!' with my son. … He's a latchkey kid and she manipulated him in every sense of the word."
Yeh was arrested in July. She was accused of having sex with three underage male students, taking one to Disneyland and another to a hotel.
On Jan. 15, she was immediately sentenced after pleading no contest to the following felony charges, related to two victims who were 15: having unlawful sexual intercourse with a minor under 16; oral copulation of a minor under 16; one count of lewd act on a child involving.
She also pleaded no contest to two misdemeanors involving a third victim, who was 16: child molesting, and violating a court order not to have contact with any of the victims by texting the 16-year-old victim.
The boy's attorney, David Ring, told KTLA he believes there were actually four victims other than his client.
"In my experience, any time you have a perpetrator like Ms. Yeh, I guarantee there's others," Ring said.