This is an archived article and the information in the article may be outdated. Please look at the time stamp on the story to see when it was last updated.
Authorities were searching Friday for an assailant who stabbed a 14-year-old student to death using a pair of scissors in front of an East Los Angeles Middle School.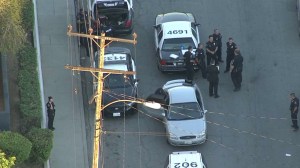 The incident occurred on the front steps of David Wark Griffith Junior High School at 4765 East Fourth St. (map), according to Los Angeles Unified School District spokesman Daryl Strickland.
Sheriff's deputies responded to the school around 3 p.m., where they found a teenager suffering from a stab wound to the torso, Los Angeles County Sheriff's Department Sgt. John Sagardi said.
He was taken to a local hospital where he later died, LASD stated in a news release.
The victim, identified by friends as Steven Cruz, attended nearby James A. Garfield Senior High School, located at 5101 East Sixth St. (map) – about half a mile from where the stabbing took place, Strickland said.
A spokeswoman for LAUSD said the teen was stabbed with a pair of scissors.
It was not known why Cruz was at Griffith Junior High.
There was conflicting information about whether his attacker, described as a Hispanic youth, was a current or former student at Griffith Junior High or perhaps attended another school.
Cruz was initially identified as being 15 years old by the LAUSD. But sheriff's officials later confirmed the teenager was 14.
Over a dozen police cars appeared to be near the school as of 5 p.m., where Sky5 aerials showed officials seemed to have established a perimeter.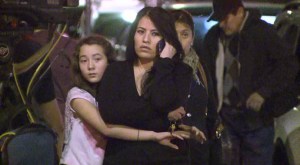 The stabbing occurred just as school was letting out.
But about 100 students and staff who remained on campus for after-school programs were kept on lock down for several hours while officers secured the scene.
Worried parents gathered near the school waiting for word on their children who were still inside.
Police had interviewed a number of people who witnessed the stabbing including students and school staff.
Anyone with information was asked to contacted LASD's Homicide Bureau at 323-890-5500.
Clarification: An earlier version of this article did not provide a source for the detail about the nature of the weapon. Given that the Sheriff's Department on Jan. 28, 2015, described the weapon used as a knife, a line has been added to this article attributing the original description of the weapon as scissors.
More Video: