This is an archived article and the information in the article may be outdated. Please look at the time stamp on the story to see when it was last updated.
Nearly a year ago, Claremont High School senior Alexander Harris broke his neck in a dirt bike crash and was told he might never be able to walk again.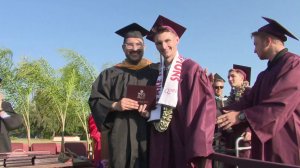 But on Thursday, Harris proved the doctors wrong when he got up out of his wheelchair and walked across the stage to get his diploma at his high school's graduation, capping what has been a remarkable recovery for the teen.
"Ten months ago, he couldn't lift his hands to drink, I had to feed him, I had to give him, you know, whatever he needed, and to see where he's at today," Alexander's mother Peggy Harris said, her voice trailing off.
The teen's ordeal began last August, when he made his professional motocross racing debut.
Something went horribly wrong during a jump, and Harris was thrown over the handlebars. He hit the ground and felt nothing.
As it would turn out, Harris had snapped his neck, critically injuring his spine and spinal cord.
A surgeon at Loma Linda University Medical Center warned his parents that the extent of the injuries could leave their boundlessly active son a quadriplegic.
It was a possibility that Harris told KTLA didn't sit well with him.
"My first thought was, 'When can I get back walking? When can I get back to my normal life?'" Harris recalled.
The teen refused to give in and give up, even when the prognosis seemed dire. After surgery, Harris underwent months of grueling therapy and treatment, working hard as he tried to regain a semblance of his life before the crash.
"A lot of things I put my mind to, I work really hard to try and get to that goal," he explained.
His attitude throughout the process was one of optimism, according to his mother.
"He's never down," she said. "I'm thinking like, 'Wow! He inspires me.'"
Those months upon months of effort paid off for the resilient teen at his graduation on Thursday when he up to get his diploma.
Harris got out of his wheelchair and, with the aid of walker, managed to walk across the stage himself. It marked a major achievement for a young man who was told, less than a year earlier, that such a simple feat might be impossible for him.
He was met by thunderous applause from classmates and those who attended the ceremony – including his proud parents.
"To watch him work hard, it's been amazing," said Ken Harris, Alexander's father.
Added his mother: "He's a miracle and an inspiration. He's awesome."
Reflecting on the past 10 past months, Harris expressed gratitude to those who have helped him along the way, and imparted some sage advice to those who hear his story.
"Never give up," he said.
As for what the future holds, Harris has enrolled at Citrus College and would eventually like to become a personal trainer. He also hopes to get back on a motorcycle someday.