This is an archived article and the information in the article may be outdated. Please look at the time stamp on the story to see when it was last updated.
The man suspected in an apparent murder-suicide that left two people dead at UCLA Wednesday was identified by authorities Thursday.
Los Angeles Police Department spokesman Capt. Andy Neiman identified the gunman as Mainak Sarkar.
Sarkar was a former Ph.D. student who had posted a tirade about the victim on social media and accused him of stealing his computer code before giving it to someone else, the Los Angeles Times reported.
"William Klug, UCLA professor is not the kind of person when you think of a professor. He is a very sick person. I urge every new student coming to UCLA to stay away from this guy," Sarkar wrote on March 10, according to the Times. "He made me really sick. Your enemy is my enemy. But your friend can do a lot more harm. Be careful about whom you trust."
The Los Angeles County coroner's office officially identified the shooting victim as 39-year-old William S. Klug Thursday morning.
Klug was described by colleagues as brilliant, kind and caring.
Klug, a 39-year-old father of two, was an associate professor of mechanical and aerospace engineering, the Times reported. He lived in El Segundo, according to UCLA.
"I am absolutely devastated," fellow professor Alan Garfinkel told the Times. "You cannot ask for a nicer, gentler, sweeter and more supportive guy than William Klug."
In an obituary released by UCLA Thursday, Klug was described as a "beloved and committed scholar," who conducted "life saving" research.
The professor specialized in computational biomechanics and the mechanics of biological systems including cancer cells, the obituary stated.
Klug was a graduate student at UCLA from 1998 to 1999 and earned a master's degree in civil engineering. He later earned a doctorate from Caltech and returned to UCLA as a faculty member.
He held appointments in mechanical and aerospace engineering and bioengineering at UCLA and became a professor in 2015, according to the university.
Klug received several prestigious awards, including a 2008 National Science Foundation Career Award and his department's Samueli Teaching Award.
In 2012, he was honored by Westmont College, his undergraduate alma mater, as a distinguished alumni. He also served as a visiting scholar at Caltech and USC while on sabbatical from UCLA in 2012, according to the obituary.
"Bill was one of the most talented, intelligent and caring people I have ever known, and he made enormous contributions in the field of computational biomechanics," said UCLA professor Jeff Eldredge, who met Klug in 1999.
"While sharing a lab with him these past 13 years, I have watched him mentor a series of great research students," Eldredge said. "I had looked forward to us growing into old grouchy professors together, and I'm very sad to lose a dear friend and colleague and the many years of future collaboration and camaraderie that have vanished for no sensible reason. We have lost someone truly special. My thoughts are with his wife and children."
Klug is survived by his wife, Mary Elise, a fellow graduate of both Westmont and UCLA, and their children, Timothy, 9, and Rosemary, 7.
In a statement released through UCLA, Klug's wife, Mary Elise Klug, called the professor's death "an indescribable loss."
Bill was so much more than my soulmate," the statement read. "Knowing that so many others share our family's sorrow has provided a measure of comfort."
The shooting occurred in a small office in the Engineering IV building on the school's campus about 10 a.m. Wednesday, leaving both men dead and sparking a massive multi-agency response.
The school was locked down for nearly three hours during a tactical search of the campus.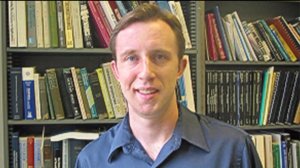 Students inside buildings described tying belts to doors and pushing tables against entrances in order to feel safe while authorities searched for the shooter.
Following the hours-long search, Los Angeles Police Department Chief Charlie Beck announced the shooting was a murder-suicide and said the campus was safe.
Authorities recovered a firearm at the scene and a note was discovered near the victims.
Classes resumed on campus Thursday, except for those in the engineering department.
The undergraduate student government planned to hold a candlelight vigil for Klug in Bruin Plaza at 8:30 p.m., according to the Daily Bruin.
A memorial for Klug was also scheduled to be held at George Brett Field in El Segundo at 9 a.m. Saturday.
A GoFundMe account was set up to support Klug's family.
The school's commencement was expected to continue as scheduled next Friday.