This is an archived article and the information in the article may be outdated. Please look at the time stamp on the story to see when it was last updated.
Amazing video of a northbound gray whale swimming extremely close to shore was captured this week by a local whale-watching company in Newport Beach.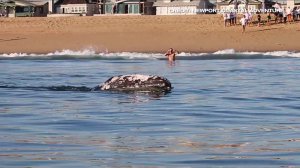 The video was shot Wednesday by the crew at Newport Coastal Adventure as the whale swam between the Balboa and Newport piers, according to a post on the company's Facebook page.
According to the group, gray whales often come close to shore to "rub themselves on the shallow sandy bottom of the Balboa Peninsula."
"This one gave an amazing show, and even paraded around with its mouth open, giving us a rare look at its BALEEN!," the company posted.
The post stated that it was likely the whale was "skim feeding" on plankton, which the whale-watching company called "uncommon behavior."