This is an archived article and the information in the article may be outdated. Please look at the time stamp on the story to see when it was last updated.
Police were looking for three people who pepper-sprayed several Subway restaurant employees before robbing the 24-hour North Hollywood location, authorities said.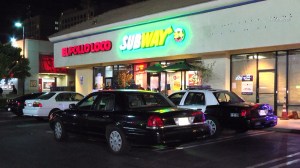 The incident began around 12:30 a.m. when the robbers entered the business in the 10900 block of Magnolia Boulevard (map), according to the Los Angeles Police Department's North Hollywood Division.
They pepper-sprayed four employees in the face then grabbed an unknown amount of cash, according to LAPD.
The employees suffered from stinging eyes and burning throats, but were otherwise said to be OK.
No description of the robbers was immediately available.
KTLA's Justin Burton contributed to this report.