This is an archived article and the information in the article may be outdated. Please look at the time stamp on the story to see when it was last updated.
A summer storm moved from San Diego County across much of the rest of Southern California Tuesday afternoon, bringing lightning and unseasonable rainfall, and prompting temporary beach closures.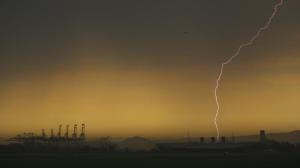 Beaches in Orange and Los Angeles counties were under threat of lightning as the storms moved through the area at a speed of 20 mph, according to the National Weather Service.
About 4:45 p.m., beachgoers in Los Angeles County were told to go inside as lightning was observed from Long Beach through the South Bay.
People were ordered out of the water and off the sand in Redondo Beach after lightning was spotted inland, according to the Los Angeles County Fire Department.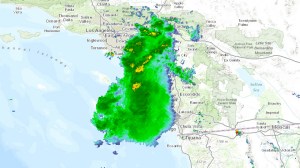 All L.A. County beaches were closed until further notice, the department's Lifeguard Section said on Twitter about 5 p.m. A department spokesman said beaches had been reopened by 6:15 p.m.
In Torrance, firefighters responded to a lightning strike that broke through the concrete outside the DMV location, according to city fire Capt. Bob Millea. A KTLA viewer provided a photo of a hole in the concrete sidewalk — several inches wide — where she said the lightning made contact.
Millea initially said a person was found without trauma but was transported to a hospital just in case, but he later clarified that in fact a security guard was transported after reporting he felt ill about 45 minutes after the lightning strike.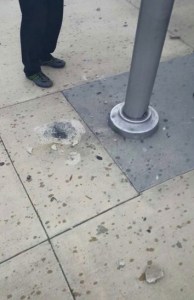 No one was struck by the lightning, Millea said.
At 5:15 p.m., the line of storms over L.A. County was producing wind gusts of 30 to 40 mph, with gusts up to 50 mph in the mountains, the weather service said on Twitter.
Storms were expected to cross the L.A. metro area about 5:30 p.m.
The severe thunderstorm warning was first issued  for San Diego County, with the weather service saying winds could gust up to 60 mph and destructive hail was forecast. The storm then moved northwest.
KTLA viewers from Temecula to Littlerock reported heavy rain.
The weather service also said brief heavy downpours occurred in the Antelope Valley around 2:30 p.m.
The storm came amid a heat wave that prompted the state's first Flex Alert — an official request to conserve power — since July 2013.
At 230 pm, isolated tstms in #AV affecting Pearblossom and Littlerock. Brief heavy downpours and gusty winds.#cawx. pic.twitter.com/68ylSfH99H

— NWS Los Angeles (@NWSLosAngeles) June 30, 2015
At 440 pm, line of tstms moving into long beach, south bay, and catalina. Frequent lightning observed! #LAWeather pic.twitter.com/xLmdjxb7uu

— NWS Los Angeles (@NWSLosAngeles) June 30, 2015
#Lightning strikes just witnessed inland of #RedondoBeach. Topaz Lifeguard clearing the water first then the beach. pic.twitter.com/Z7KgFhyOkT

— LACoFD Lifeguards (@LACoLifeguards) June 30, 2015
@NWS has issued Thunderstorm watch for OC/LA. All #LACounty beaches are closed UFN. If outdoors, seek shelter! pic.twitter.com/X2cav5IxV8

— LACoFD Lifeguards (@LACoLifeguards) July 1, 2015
More Video: