This is an archived article and the information in the article may be outdated. Please look at the time stamp on the story to see when it was last updated.
Lorae Bermudez filed a claim this week against the County of Los Angeles after being run over by a lifeguard SUV while she was sunbathing at Venice Beach last month.
It happened about 4:20 p.m. on Sept. 15 as the 26-year-old newlywed was lying on a towel in the sand and her new husband was out in the water.
The lifeguard was returning from a call about swimmers getting too close to rocks when she struck Bermudez, according to Los Angeles County Fire Department Inspector Scott Miller.
The lifeguard stopped and called for help after hitting the young woman, according to Sgt. Frazier with the Los Angeles Police Department's West Traffic Division.
Bermudez was transported to UCLA Medical Center, authorities said.
She survived her injuries, but said her life changed forever.
After being injured, she needed a walker to get around and was no longer able to work or care for herself, according to her attorney Robert Glassman of Panish Shea & Boyle LLP.
"I would hope this never happens to anyone else," Bermudez said.  "I wouldn't want anyone to experience what I had to go through."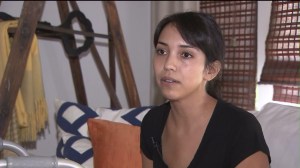 The claim, filed Tuesday, alleged the lifeguard "was negligent and reckless in carrying out her duties."
"Ms. Bermudez was an innocent bystander," said Glassman, who called the incident "unacceptable."
"She was doing nothing wrong. She was simply sunbathing on the beach," he added.
This wasn't the first time a sunbather had been struck. In May, a county Department of Beaches and Harbors worker drove over a 49-year-old woman, also at Venice Beach.
In February, a man was run over by a maintenance worker's truck on the beach in Long Beach.