This is an archived article and the information in the article may be outdated. Please look at the time stamp on the story to see when it was last updated.
A homeless man who was covered in blankets at Venice Beach was run over by Los Angeles County maintenance vehicle Friday morning and was taken to a hospital in serious condition.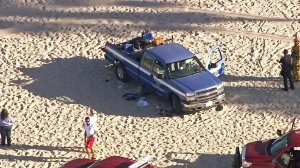 The vehicle inadvertently drove over a 53-year-old man who was in the sand near the 400 block of Ocean Front Walk at about 8:43 a.m., Los Angeles Fire Department spokesman Erik Scott said.
The victim, who was taken to UCLA Medical Center in Westwood, was alert but complained of lower back pain, the county Department of Beaches and Harbors said in a statement.
A grounds maintenance worker who has been with the department for more than 15 years was driving the pickup truck, the statement indicated. The worker had just finished cleaning the Rose Avenue parking lot and was driving south along the beach when he was flagged down by a beachgoer for another maintenance need.
The worker turned the truck to respond to the new call when one of the pickup's wheels struck the victim, according to the statement.
A few belongings, which may belong to the victim, were still visible in the sand.
Authorities at the scene believed the man would be OK, Los Angeles Police Department Sgt. Stevens said.
The driver of the vehicle was removed from the rest of his normal activities Friday while the incident was under investigation, Beaches and Harbors spokeswoman Carol Baker said.
The department said it will review the incident.
Jane Vincent said she still feels sick after witnessing the incident.
"I almost threw up," she said. "It's horrible, everybody thought he was dead."
KTLA's Irvine Last and Cindy Von Quednow contributed to this report.