This is an archived article and the information in the article may be outdated. Please look at the time stamp on the story to see when it was last updated.
A man died after breaking into a Sunland home and barricading himself inside, firing a gun out of the home and in turn being fired upon by an LAPD officer during an hourslong standoff on Monday.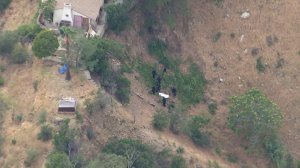 The incident began as a "hot prowl burglary" call about 9 a.m. in the 11300 block of Alethea Drive, a street that ends in the foothills near the Angeles National Forest.
Nearly five hours after police were called to a home there, the man in the standoff was dead.
The Los Angeles Times reported that police fatally shot the man about 2:40 p.m., after he was forced out of the home by tear gas and he had fired at officers.
Officers were first called to the scene by a woman who said a man entered while she was at home, according to Los Angeles Police Department Detective Meghan Aguilar. The woman was able to escape and call 911.
She told police there were firearms inside the home, Aguilar said.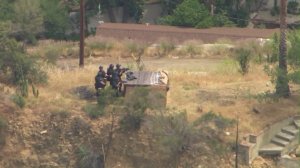 SWAT officers arrived and surrounded the home, trying to make contact with the man, the detective said.
At one point, a man could be seen emerging from the house, apparently carrying a firearm, about 1 p.m. He appeared to discharge the gun in the direction of officers, who appeared to return fire in his direction, aerial video from Sky5 showed.
Aguilar said it wasn't clear if the man was firing at officers or what his target was. One officer did shoot at the man, Aguilar confirmed. The man went back into the home and his condition at that time wasn't known, the detective said.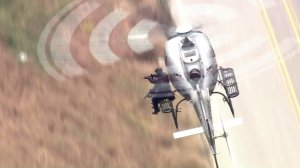 Over the next couple hours, the man went in and out of the home, sometimes firing off a gun.
"There were times the suspect would exit the residence and then retreat back in. When he would exit, sometimes he would fire, and there were some officer-involved shootings," Aguilar said.
Then, about 2:40 p.m., video from Sky5 showed the man emerging from the home, which was smoking from tear gas that had been fired into it.
Police shot at the man again, this time killing him, and he rolled down a steep hillside next to the home, according to the Times.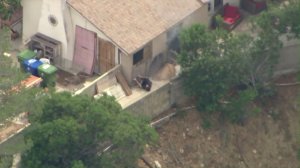 Officers and a police dog eventually surrounded him; he did not move. His body was eventually covered with a white sheet.
Aguilar said that a "final officer-involved shooting" occurred. The Los Angeles Fire Department, which was on scene, determined the man was dead, the detective said.
LAPD planned to be on scene through the night to investigate the police shootings.
Correction: An earlier version of this article gave the incorrect time for when the man came out of the home and fell down the hill.  The post has been updated.