This is an archived article and the information in the article may be outdated. Please look at the time stamp on the story to see when it was last updated.
A section of Sunset Boulevard in the Holmby Hills area was closed in both directions Sunday as utility crews worked to repair a broken water main, an official said.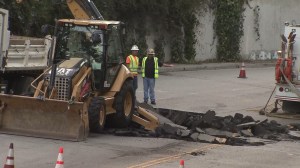 The 12-inch cast-iron pipe ruptured about 11 a.m. in the 10200 block of Sunset (map), said Kim Hughes, spokeswoman for the Los Angeles Department of Water and Power. The street was closed between Charing Cross Road and Mapleton Drive.
Workers remained at the scene more than six hours after the rupture occurred.
Twenty DWP customers were affected by the incident, Hughes said.
Repairs were expected to be completed about 3 a.m. Monday, the utility said on Twitter.
A 36-inch, steel-riveted trunk line, located about a mile west of Charing Cross, burst open on July 29, sending torrents of water onto the UCLA campus.
https://twitter.com/LADWP/status/516449023977197568/photo/1