This is an archived article and the information in the article may be outdated. Please look at the time stamp on the story to see when it was last updated.
More than five days after a massive geyser shot out of a water main break underneath Sunset Boulevard in Westwood, flooding parts of UCLA's campus, the thoroughfare reopened early Monday following extensive repairs.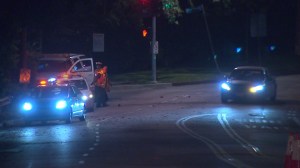 Sunset Boulevard was open again about 1:30 a.m., Los Angeles Mayor Eric Garcetti announced.
Los Angeles Department of Water and Power crews had worked around the clock to complete a complex repair job on two trunk lines that ruptured under the asphalt.
The damage, disruption and expense caused by the pipes, both some nine decades old, prompted calls for increased attention to Los Angeles' aging water system.
"Now that the immediate task is complete, we must maintain this urgency and redouble our efforts to make the changes we need to improve our city's core infrastructure and services," Garcetti said in a statement early Monday.
Smaller leaks and breaks could occur as the system stabilizes following the repairs, DWP warned.
Meanwhile, drivers on Sunset Boulevard must travel at reduced speeds this week, and the roadway will be closed for final repairs in the overnight hours on the coming weekend -- Friday, Aug. 8, Saturday, Aug. 9 and possibly Sunday, Aug. 10, Garcetti said.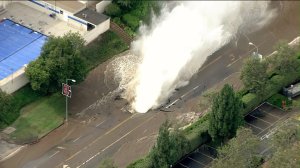 It took workers more than 24 hours to completely shut off water flow from the pipes, which sent an estimated 20 million gallons of water gushing towards UCLA.
Several buildings on the university's campus were flooded, including the famed Pauley Pavilion basketball facility, which will see its flooring replaced only a couple of years after a multimillion-dollar upgrade. No home basketball games will be affected, according to the university.
Two UCLA parking garages were flooded, and hundreds of cars that were damaged had to be towed from the structures. Anyone will property damage was advised to go to ladwp.com/claims or call 213-367-4600.
At the repair site, crews excavated a hole more than 2,300 square feet in area, removing a "Y" juncture where the two lines met and burst. A stronger "T" juncture was fabricated on site and welded to the old pipes.
About 400 tons of sand and 540 tons of "crushed aggregate base" were used to fill in the gaping hole, according to DWP. Repaving the roadway followed, and final resurfacing was being done about 10 p.m. Sunday, according to DWP.
The trunk lines — which represent a "major artery" in DWP's water supply and distribution system — will be returned to full service in coming days, the utility announced.
New pipe fitting installed overnite. Next: final welding, reinforcement then pressure testing. pic.twitter.com/Y5tJFjytFq

— LADWP (@LADWP) August 2, 2014
Thank you for your support @ericgarcetti and for the tremendous help of your entire team. #OneCity pic.twitter.com/FeSR4BWLrd

— LADWP (@LADWP) August 4, 2014