This is an archived article and the information in the article may be outdated. Please look at the time stamp on the story to see when it was last updated.
WASHINGTON (KTLA) — The Supreme Court on Wednesday was expected to issue decisions in two historic same-sex marriage cases.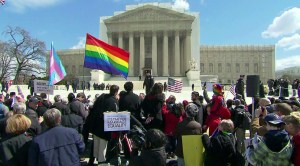 The justices were expected to give a ruling on California's Proposition 8, a ban on same-sex marriages approved by voters in 2008.
They were also expected to rule on the Defense of Marriage Act (DOMA), which denies federal benefits to legally married same-sex couples.
The court could uphold both Prop 8 and DOMA.
That would mean no same-sex marriage in California, as well as no recognition of same-sex marriage by the federal government.
Alternatively, the court could strike down both laws.
The court could also come up with some kind of mixed decision more limited in its scope.
Finally, the justices could decide not to decide, pushing the cases down the road based on a legal technicality.
One couple expected to be watching very closely was Paul Katami and Jeff Zarillo, of Burbank. They are the two plaintiffs in the Prop 8 case.
If the Supreme Court legalizes same-sex marriage in California, officials have said there could be a 25-day waiting period before marriages resume.
That would mean that the earliest ceremonies could be performed would be sometime in mid-July.