This is an archived article and the information in the article may be outdated. Please look at the time stamp on the story to see when it was last updated.
Sheriff's detectives asked for the public's help Friday in identifying multiple men caught on surveillance video during two Santa Clarita Valley cell phone store burglaries investigators believe to be related.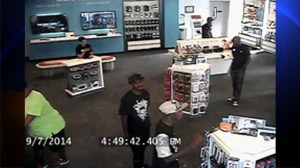 In the first incident, five men ages 18 to 20 years old entered an AT&T store in the 26400 block of Bouquet Canyon Road in the Castaic Canyons area (map) on Aug. 15 around 6:40 p.m., according to a L.A. County Sheriff's Department news release.
In less than a minute the men ripped devices form security cables, stole cell phones and tablets and ran from the store.
During a second incident, three men ages 18 to 20 years old burglarized a second AT&T store located in the 24900 block of Pico Canyon Road Stevenson Ranch (map) on Sept. 7 around 5:10 p.m. and stole multiple items.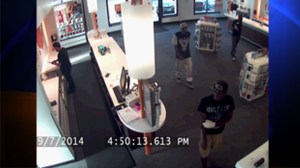 Investigators believe both incidents are related and could have been perpetrated by the same men.
Anyone who recognizes the men or has information was asked to contact Santa Clarita Valley Sheriff's Station Detective Deegan at 661-255-1121 or at msdeegan@lasd.org.
Anyone who wished to remain anonymous could call the L.A. Regional Crime Stoppers at 1-800-222-8477.