This is an archived article and the information in the article may be outdated. Please look at the time stamp on the story to see when it was last updated.
Surveillance footage recently captured video of a woman stealing a present from a man's soon-to-be-married daughter off his Lakewood home's front porch.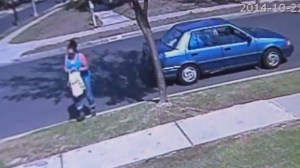 Video provided by homeowner Scott Farser showed a FedEx worker delivering a package the night of Oct. 21 to a home in the 3200 block of Centralia Street (map), then a woman taking the package around 12:15 p.m. the following day.
The woman, who appeared to have a tattoo on her right shoulder, parked a blue older-model car in front of the home before walking up and grabbing the package, video showed.
Farser, an active member of the local neighborhood watch group, said he recently bought the camera because he wanted to be "proactive than reactive."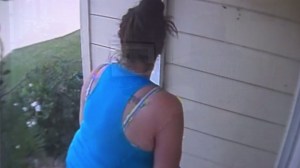 "Buying the camera did pay off. If nothing else it'll get her face out there, and somebody's got to recognize that old car," he said.
The package contained two custom beer steins Farser's daughter had purchased him and her father-in-law, Farser said.