This is an archived article and the information in the article may be outdated. Please look at the time stamp on the story to see when it was last updated.
As crews worked to clean up the scene of a deadly crash at a Canoga Park doughnut shop Sunday, dramatic surveillance video that captured the incident was released.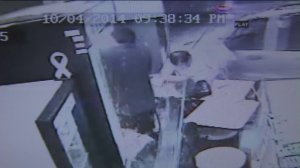 One person was killed and four others were injured when an SUV plowed through Jolly Donuts (map) Saturday around 9:30 p.m., according to the Los Angeles Fire Department.
The sobriety of 42-year-old driver Kristen Chang, as well as the cause of the crash, was being investigated, LAPD Sgt. William Kelly said.
Although all four victims were said to be in critical condition Saturday, by the following day two were listed in serious condition and a third was released from the hospital. The fourth victim remained in critical condition.
The vehicle slammed into the store, hitting a glass case containing doughnuts and sending it clear across the shop. It continued driving through the business, visibly hitting at least one person who was sitting at a table, before exiting the shop from another side, the video showed.
Amazingly, the man seen getting hit in the video walked away from the collision without any major injuries.
"I thought something like that happened, I know I got hit by a car, but to see it from a different perspective…I'm amazed," Bruce Bowman told KTLA on Sunday morning.
Bowman added that until he saw the video, he initially thought he had been hit by a microwave.
The victim killed in the crash has not been identified by authorities, but according to the store's owner, he was a transient who regularly frequented the store.
"He comes to the shop every night to charge his phone cause he's homeless," Sivlai Chung said. "He has a cup of coffee and he sits there until his phone's charged up and he leaves on his way."
Chung did not give any further information about the man.
The cause of the crash was under investigation, and the driver — who has been hospitalized — was being evaluated.
It was not immediately clear whether any charges would be filed in connection with the incident.
KTLA's Ashley Soley-Cerro contributed to this report.