This is an archived article and the information in the article may be outdated. Please look at the time stamp on the story to see when it was last updated.
Surveillance video of an apparently unprovoked assault on an 83-year-old woman in Koreatown was released by an area shop owner Friday morning.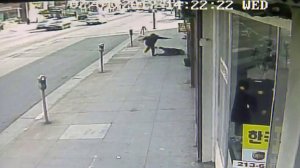 The incident took place about 2:40 p.m. Wednesday near Western Avenue and West Third Street, Los Angeles Police Department spokeswoman Liliana Preciado said.
Video shows the victim walking down a sidewalk as another woman runs up from behind and then shoves her to the ground.
The attacker continues to run away from the scene as bystanders rush to assist the injured woman.
The victim suffered a one-inch gash on her left cheek and had pain in her knee after the fall, police told the Los Angeles Times.
A Good Samaritan ran after the suspected attacker, who initially told police her name was Patty Garcia, but fingerprints later identified her as Alexis Duvall, the Times reported.
According to investigators, the suspect was yelling obscenities and appeared to be under the influence or mentally ill at the time of her arrest, the Times reported.
She was being held on $50,000 bail.
A social media post shared by Facebook user Linda Lee following the attack suggested the attacker yelled "white power" before fleeing, however police have said that no one at the scene reported hearing that.
As of Friday, the incident was not being investigated as a hate crime, LAPD Sgt. Montgomery said.