This is an archived article and the information in the article may be outdated. Please look at the time stamp on the story to see when it was last updated.
Hawthorne police on Thursday released surveillance video showing a hit-and-run collision in the city that left three pedestrians injured earlier this month.
The incident occurred in the intersection of Crenshaw Boulevard and Rocket Road just before 2:15 a.m. Dec. 17, according to a Hawthorne Police Department news release.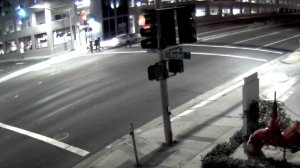 A vehicle was traveling at a high rate of speed northbound on Crenshaw when it ran a red light at Rocket, striking three woman as they crossed the street, police said. The driver continued on without slowing, fleeing the scene while the injured women were down in the roadway.
The pedestrians were treated for various injuries at the scene by Los Angeles County Fire Department rescue units before being taken to area hospitals for treatment. They have since been released.
Police released the graphic video footage in an effort to find the driver and the hit-and-run vehicle, which is believed to be a light-colored 1996 Toyota Camry. It is described as possibly gray, silver, or light green in color, with damage to the front-right corner of the car, according to the release.
Hawthorne police initially said it was a 2006 vehicle, but later corrected the description to refer to a car a decade older.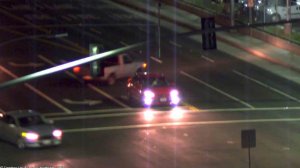 Witnesses observed the Camry running a red light at Jack Northrop Avenue prior to speeding through the light at Rocket, according to police.
Authorities additionally are asking the public's help to find the driver of a small gray two-door pickup truck that made a U-turn after the collision, apparently to chase after the Camry. Police are calling the truck a "witness vehicle."
Anyone with information about the hit-and-run is asked to call Hawthorne police at 310-349-2702 or 310-349-2727.
Those wishing to leave a tip anonymously are encouraged to contact the Crime Stoppers hotline by dialing 800-222-8477.