This is an archived article and the information in the article may be outdated. Please look at the time stamp on the story to see when it was last updated.
Warning: The video contains graphic and disturbing content, and viewer discretion is advised. 
A South Los Angeles business released surveillance video on Monday showing a local street vendor being beaten after he was robbed over the weekend in the Historic South-Central neighborhood.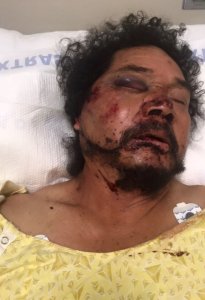 Pedro Daniel Reyes was preparing to sell peanuts and other items in the area of South San Pedro Street and East 31st Street before dawn on Sunday morning when a group of six to seven people approached him and other street vendors and demanded money, according to his stepson.
Reyes was among three people hurt in the subsequent attack, but his injuries were the most serious because he tried to flee the robbers and was beaten for that reason, Los Angeles Police Department Lt. David Krumer told KTLA.
Grainy surveillance shows some of the assailants chasing down the victim and violently knocking him over near the middle of the street, right in front of the two vehicles the suspects pulled up in.
The assault continues for a time before the attackers get back into their vehicles and speed off, leaving the badly injured man apparently unconscious near the side of the road, the footage showed.
The stepson, who asked not to be identified, said the 54-year-old had complied with their demands and handed over his money, but was attacked nevertheless.
The victim's injuries included fractures on his face, a broken jaw and multiple teeth knocked out, according to the stepson. Although he had previously said his stepfather's throat was cut, he after doctors cleaned him up what appeared to be a gash turned out to be part of the blood that had spattered all over his face.
"You guys … really messed with a man who's a good-hearted man. He has no criminal record. He's a hard-working person and … you guys should have just taken the money, why did you guys have to beat him?" he said.
The young man described his stepfather, a native of Oaxaca, Mexico, as a hard worker who never takes a day off. Reyes works full-time as a roofer, but every Sunday, he sells fruit and peanuts.
"For him, selling peanuts is his rest day just to make ends meet," the stepson said. "He depends on his job and his able body to be able to work, and now he's not going to be able to work."
Reyes was headed into surgery Monday evening and faces a long recovery — doctors estimate it will take at least six months — but doesn't have medical insurance. A GoFundMe campaign set up to help him pay for the costs, which will include surgery, has raised more than $110,000 as of Monday evening — far exceeding its original goal of $5,000 set Sunday night.
Police have not identified any of the five to six suspects caught on video in the attack, which investigators think was apparently random. One of them is believed to be a woman, the rest men.
The stepson, meanwhile, is urging the assailants to turn themselves in.
"I hope you guys, you know, turn yourselves in, or at least you feel some sort of remorse for what you guys have done," he said. "You guys have inflicted a lot of emotional and physical pain to him and our family."