This is an archived article and the information in the article may be outdated. Please look at the time stamp on the story to see when it was last updated.
Surveillance video from a Chatsworth home captured a frightening moment when a 4-year-old Maltese was attacked by a coyote in broad daylight earlier this week.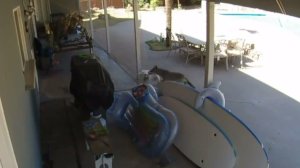 Sandy Montrose was feeding her four dogs about 9:30 a.m. Wednesday when she heard one of them, Lexi, yelp.
"He ran back into the house through the doggy door and the coyote was trying to come in as well," Montrose told KTLA Friday.
The video shows the coyote lunging toward the white dog and the dog falling backward, seemingly unharmed.
Montrose can be heard screaming in the video.
Fortunately, the coyote was spooked when one of her other dogs, a Rottweiler, went outside.
"I was devastated, petrified," Montrose said of the incident.
She added that she was glad her pup was alive, but her mind went to what could have happened.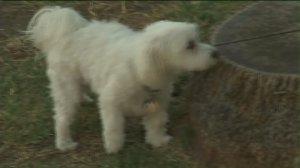 Cindy Mednick, who also lives in Chatsworth, told KTLA that three dogs have been "taken and killed" by coyotes in the last few weeks.
She started a Facebook page to warn neighbors about coyote sightings and she says she takes extra precautions when she walks her dogs.
Mednick said she carries a stick, pepper spray and a can filled with pennies to scare coyotes away.
"I've had two encounters myself," Mednick said. "We have to scare them out of our neighborhoods because their innate fear of humans, for some reason, is lost."