This is an archived article and the information in the article may be outdated. Please look at the time stamp on the story to see when it was last updated.
John Faust had stopped at a San Bernardino gas station in the early morning hours of June 24 when he was suddenly approached by two male robbers armed with guns.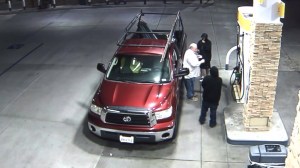 One of the robbers said, "Give me your wallet," according to Faust, and then punched the 78-year-old great-grandfather in the face.
"The next thing I knew, I was lying on the ground," Faust said.
Surveillance video, which captured the incident, shows the masked attackers emptying Faust's pockets and then running away, leaving him unconscious and bleeding on the ground. He was dazed when he came to.
The pair remained at large Tuesday.
Faust, a food-service equipment provider, had been on his way to a job about 4:30 a.m. when the incident occurred at the Shell gas station in the 1100 block of West Highland Avenue (map).
After the attack, he spent four days in the hospital and was treated for a broken nose, concussion and bleeding on the brain.
"It's the lowest of low," said Lt. Rich Lawhead of the San Bernardino Police Department, which released the surveillance video in hopes of identifying the robbers. "They didn't appear to be nervous in any way, shape or form. And they're only going to get more and more brazen.
"Eventually, somebody's going to get killed," he added.
Anyone with information is asked to contact the San Bernardino Police Department at 909-383-5311.